Profile
A rose has many thorns
and my list just keeps on growing
Free Account
Created on 2013-05-23 22:36:09 (#2023929), last updated 2017-06-30 (11 weeks ago)
22 comments received, 588 comments posted
14 Journal Entries, 14 Tags, 0 Memories, 15 Icons

About

Mini Bio
"A woman's desire for revenge outlasts all her other emotions"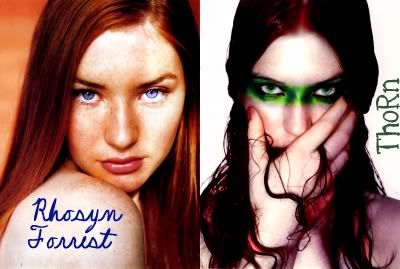 Rose Forrest is an 18 year old girl, who has just been released from the Siamare Youth Care Clinic. She had been housed at the facility since she was 12 years old after witnessing her mother's murder and then cutting off the hand of her assailant.
While at Siamare, Rose was selected to participate in an experimental new type of therapy to help those patients with violent tenancies, as she did. This included mentally taking all those bad feelings and violent urges and locking them up in a room in Rose's head. They would call this entity Thorn.
One night when one of Rose's friend was in trouble, the Thorn personality created took over and beat another patient within an inch of her life for killing Rose's friend. This nixed Rose's early release but with more therapy, her doctor was able to convince her Hearing Board that on her 18th birthday, it would be better to allow her to try and build a life rather than sending to her an adult facility.
And now Rose is free. And so is Thorn
Thorn:
The most prominent of Rose's alternate personalities is Thorn, a manifestation of all her violent tendencies and rage. She is exceedingly unstable, an excellent fighter and has a fondness for all things sharp and pointy. Thorn prefers to mutilate her victims, but does have one kill to her name. Generally, she only takes over when Rose is physically threatened and subsides during sleep. Thorn is aware of everything that happens to Rose, but Rose has no memory of Thorn's actions when she's in charge, though she is aware Thorn has taken over. They regularly converse with each other in dreams when Rose is asleep.
Other Personalities:
'Wild Rose' surfaced once when Rose's life was in danger and Thorn was incapacitated. She is a more extreme version of Thorn, running purely on violence. Neither Rose nor Thorn appeared aware of her existence until she took over. 'Mother' is a usually dormant personality that helps calm Rose when Thorn is in charge, however she surfaced in place of Wild Rose when both Rose and Thorn decided she couldn't be left in control. She is a pacifying presence whom Rose initially mistook to be her actual mother.
While these are the only other specific personas depicted in canon, it is heavily implied that there are
several
more personalities in Rose's head she is unaware of who have never surfaced. For the purposes of RP, Thorn is likely to be the only one encountered during interaction.
Other notes:
For characters from or living in Metropolis, Rose's father, Daniel Forrest, was a well known and respected detective with the Metropolis Police Department. He was killed roughly seven years prior to Rose's current timeline by a member of the crime syndicate The 100, his car and body pulled from a river. Her mother was killed a few months later in their home. Siamare is also a fairly well known home for juvenile offenders. Please feel free to have your characters aware of this information if it would be IC for them to be.
Rose/Thorn is based on the 2004 "Rose & Thorn" miniseries by Gail Simone and is copyright DC comics. The PB, Cristyn Williams, belongs to herself. They appear here solely for the purpose of role-playing in

milliways_bar, from which no profit whatsoever is being made.

People
[View Entries]

Communities
[View entries]

Member Of (3):

Subscriptions (3):

Administrator Of (0)

Feeds
[View Entries]

Subscriptions (0)

Linking
To link to this user, copy this code:
On Dreamwidth:
Elsewhere: